ABC UK Education Programme
Learning for Health Professionals
There is a lack of learning opportunities, within both primary and secondary care, for health professionals who wish to improve their knowledge of bladder cancer.
ABC UK launched our new Education Programme in September 2022 with a full day event for specialist urology and cancer nurses - which was a great success with almost 100 nurses attending. The feedback from nurses has been amazing, and is helping us to design our programme. This is the start of an annual ABC UK programme of events, resources and networking all designed to address this need - with a major annual event and a supporting programme of other learning opportunities already being planned.
Please watch our website, and our social media, for further news for 2023.
MAILING LIST: If you are a health professional and would like to be added to our mailing list for education events, please email info@actionbladdercanceruk.org with your contact details, including hospital and your role.
Programme for September 2022 Nurses' Education Day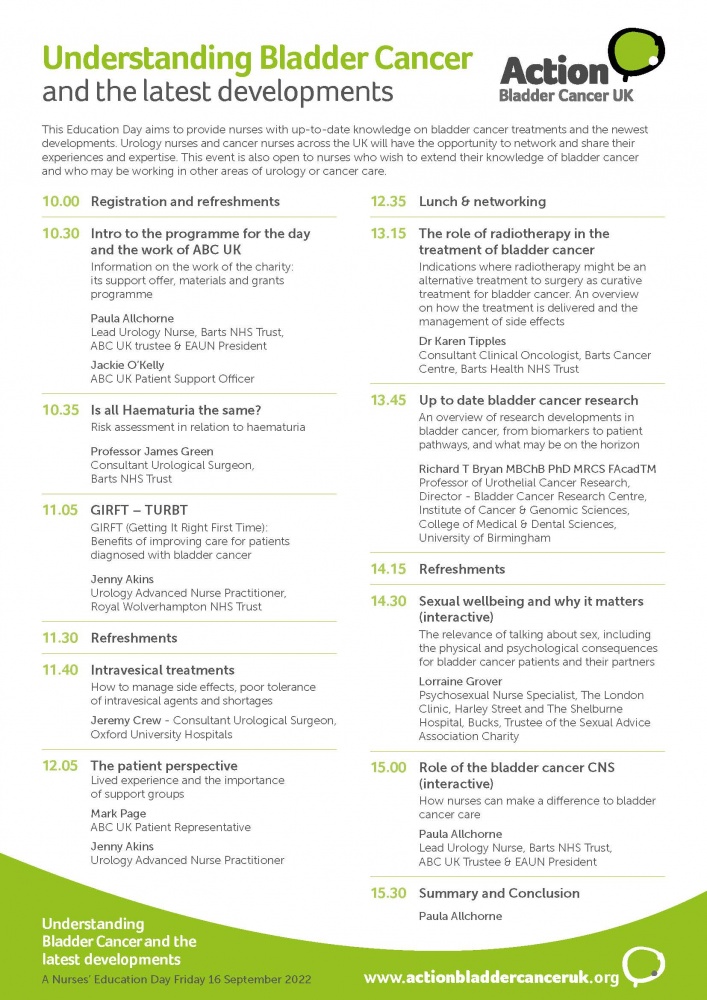 How we help you
Latest News / Events
ABC UK Small Grants Programmes deadline for applications 31 March 2023 02/03/2023
The annual grant giving rounds of ABC UK IOPP and ABC UK Nurses Awards are now open for applications - deadline 31 March 2023 - details on our grants page https://tinyurl.com/48xrprdh